Big wins for Sophia, St Ambrose as COURTS Pee Wee football kicks off
THE 2017 edition of the COURTS Pee Wee football competition kicked off yesterday at Thirst Park with big wins for several teams.The first two games of the day saw a disqualification for St Margaret's Primary who fielded an ineligible player which meant that their opponents, Supply Primary got the win.In the other game, Sophia were in fine form as they trounced Winfer Garden 8-0. Ronaldo Wilson scored four goals in the 3rd, 12th, 15th and 22nd, while one goal each came from Shem Howard (11th), David Weeks (28th) and an own goal.St Agnes was able to needle Grove Primary 1-0 thanks to Isaiah Chester in the 14th,, while Mocha Primary and South Ruimveldt played to a one goal stalemate, thanks to Jiheam Lewis and Trayvon Bess, respectively.Victoria Primary got the better of School of the Nations 3-1 with Emanuel George doubling up in the 28th and 30th, while Desmond Clarke opened the scoring in the 13th. Nations had Jared Ghaneshindin register their only goal in the 11th.St Ambrose Primary were also in fine form as they routed Colaaco Primary 8-0 with four goals from Jacob Rodney (3rd, 6th, 16th and 22nd) and a brace from Rovin Henry (4th, 30th).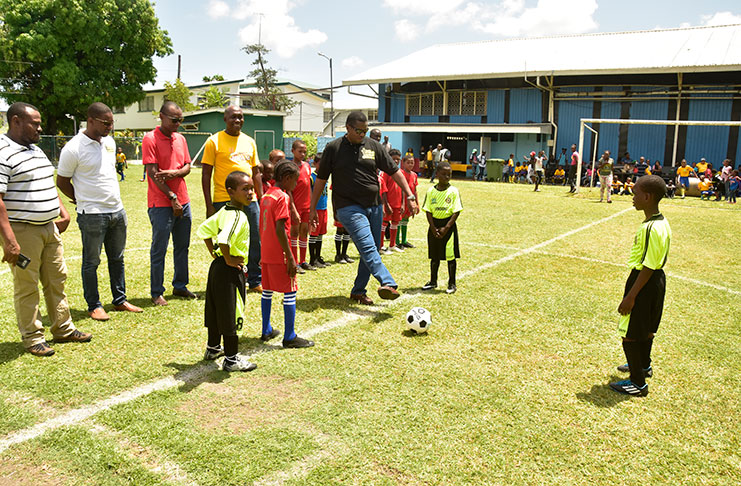 Commercial Manger of COURTS Guyana Inc., Joel Persico kicks off the 2017 Pee Wee Football TournamentD'Andre Anderson and an own goal accounted for the eight scored in the game.Keilshon Humphrey was the star in Den Amstel Primary's 3-0 win over Smith Memorial, scoring a hat- trick with strikes in the 11th, 21st and 26th.Enterprise Primary and West Ruimveldt played to a goalless stalemate, while Tucville advantaged Soesdyke Primary 6-0. Braces from Emmanuel Tinch (4th, 23rd) and Carl Negus (6th, 20th) ensured that the side had no problem in securing the win, as Ryan Greene (2nd) and John Harry (5th) drove the nails into the coffin.St Angela's and Marian Academy played to a goalless stalemate with Redeemer overcoming North Georgetown 2-0, thanks to a double from Nicholas Watts (18th, 22nd).St. Stephens had Joshua Leitch save the day in their 1-0 win against Timheri Primary, while St Pius thrashed F.E Pollard 6-0, thanks to a hat trick from Dwayne Baptiste (2nd, 25th and 26th), a brace from Kaven Wellington (21st and 24th) and a single from Manassel Anderson (3rd).Yesterday morning's session featured a march past with the kickoff being done by Commercial Manger of COURTS Guyana Inc., Joel Persico.